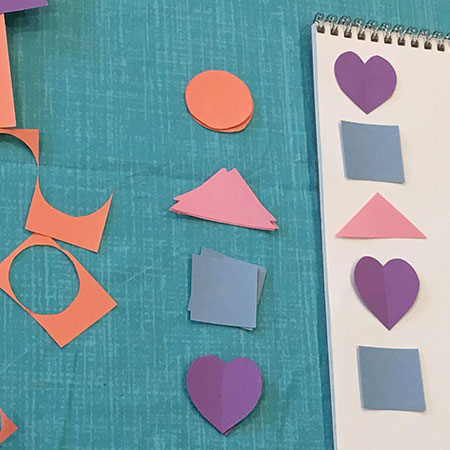 Pattern Power
Practice creating and replicating patterns—an important math skill—with this simple activity.
Easy
Not Messy
30 Minutes
Indoor or Outdoor
You Will Need
Colored paper

Scissors

Pencil or marker
Directions
Cut a variety of shapes in different colors from the paper.
Put the shapes in a pattern and provide your child with the same shapes.
Ask your child to replicate the pattern you provided with the shapes they have in their pile.
Experiment Extensions
Instead of cutting out your own shapes you can use household items such as small toys, fruit, button (or anything else you can think of).
Switch the process and have your child create patterns for you to replicate, and have them check your work!
How it works
Replicating a given pattern is one of the best ways to enhance logical reasoning ability at a young age. It allows children to observe, analyze and experiment. They will use these skills multiple times in their lives, and not just in math and science classes!